Freeman Residence
Season 5 | Episode 5 | For the Love (+Fear) of Color
Who says you have to give your personal style a name? Sometimes it's just the thing you like put together, and there is no need to give it any labels. On this week's episode of Simple.Honest.Design, I give a client a great reason to use the rarely-previously-used back yard by filling it with all the things that make her happy, including COLOR, which scares her to use on her own.
Design Inspiration
Carrie Freeman loves color but is scared of it. She loves clean lines and geometric shapes. So I came up with an inspiration board that I thought would express her personal style perfectly.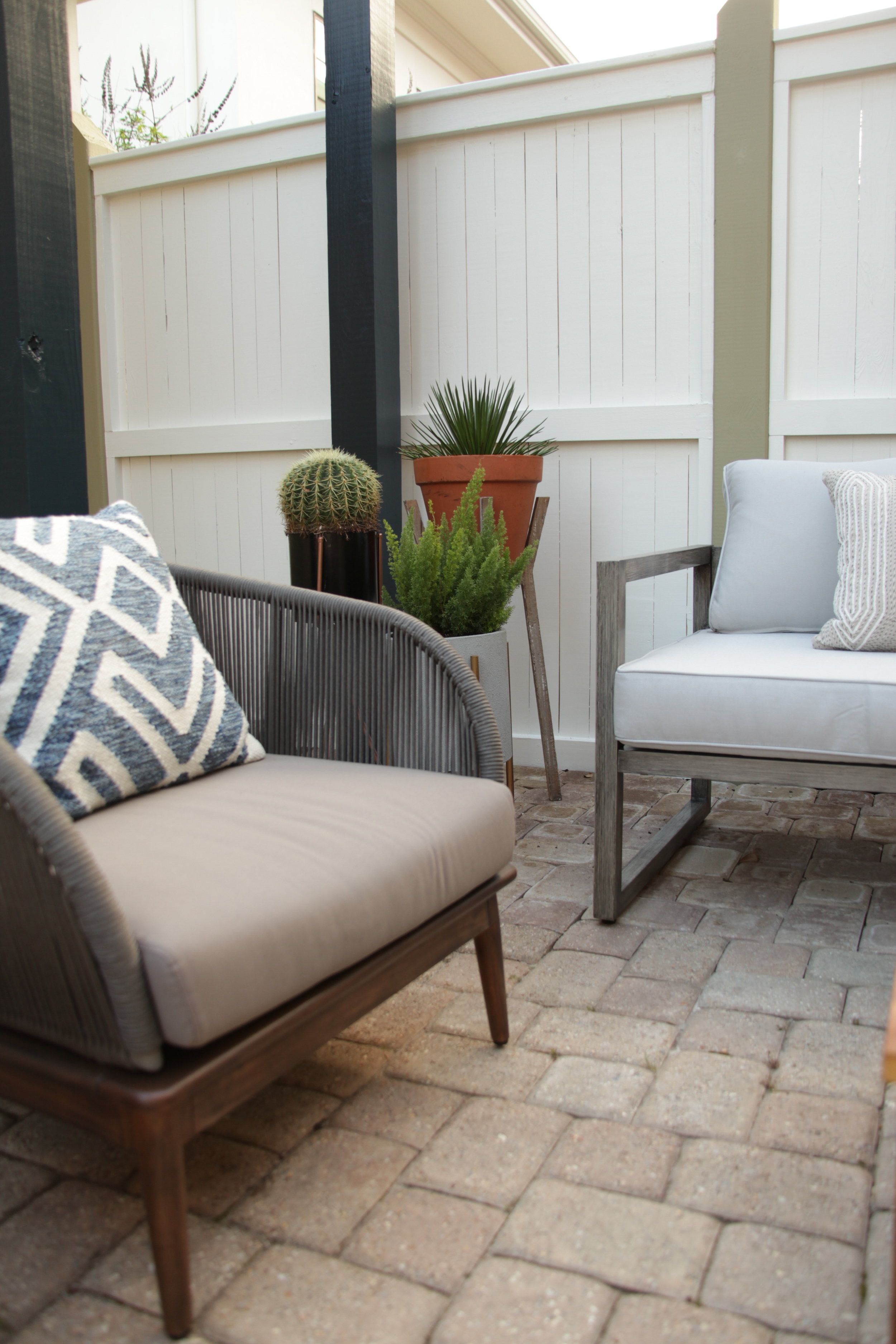 I really love the piece of custom art that Carrie commissioned for this exterior space. It really pulls everything together! I also am so happy we decided to extend the patio back toward the fence. It only added about 24" to the patio but it made a HUGE difference in making the patio a truly useable space.
Q: You were once afraid of using color in your decor - do you think you'll brave using more in other places in your home?
A: Yes! So proud of myself for picking the deep blue of the pergola. I love color but was afraid I might overuse it but I love the way Catherine was able to show me a basic neutral palate with the beautiful pops of color in the pillows, art, landscape, succulents and containers.
Q: What was the most surprising or unexpected part of the design?
A: Perhaps how hard it was to choose and build the pergola? Torrey worked so hard and I wanted it to be a modern structure and I'm so thankful that it turned out the way we envisioned!
Other things that surprised me: how well all the mix and match items we chose went so well together? Or maybe how awesome a fresh coat of paint on the fence really freshened up the area!
Q: Did the new design make you want to spend more time in your own back yard?
A: Yes! yes! I love going outside in the evenings when it's cool and just lounging. I've taken meals outside too! Maverick loves being outside so this space allows us to spend more time outdoors comfortably. And I haven't killed any plants! (YET)